Brandy
$39.90
What it is: A combo precisely contemplated in this well-thought-out kit, which even has 2 express dissolving wipes: your nails will love it!
What it does: Everything you need in a manicure nail set for at home nail care.
What it includes:
Recyclable and reusable bag
Designed stamps
A kit of 2 double-sided nail files for the perfect manicure.
There are 2 sides with 2 actions. The coarse-grained side allows you to file and shape your nails whereas the fine-grained side to smooth and perfect your manicure.
How to stamps: Start filing your nails perfectly . Dry on your nails perfectly before applying the stamps for best results.
Top coat: * Use after application of stamp colour. * Apply a layer of top coat, starting from the base to the tip of your nails. *recommended to use a light bulb for a better result but it is not necessary.
5 in stock
Compare
Related Products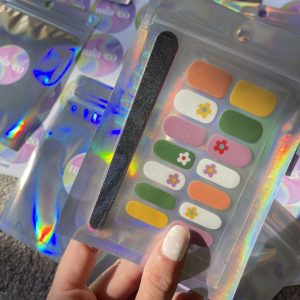 What is life without a little mystery﹖ Our Mystery nails Deal gives you 3 high quality stamps selected at for a saving of up to 50% off . These stamps are essential, must-have styles for those cooler days or to simply level up your look. Your nails will be selected at random in a lucky dip from MIA huge range of stamps. – 3 x Mystery stamps – Limited quantity, get in quick – Selected at random from MIA range of stamps.